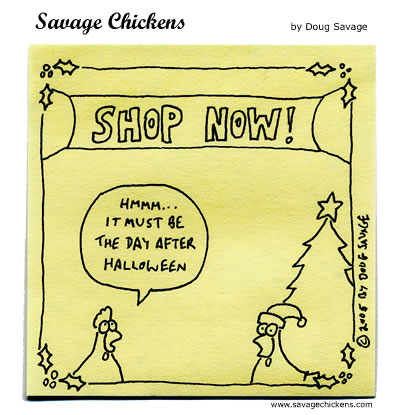 Now that Halloween Week is over, it's time to announce the results of the Savage Chickens Halloween Contest. Thanks to everybody who participated! Because of the overwhelming response, I decided to provide a Savage Chickens coffee mug as a second prize.
Here are the winners:
First place – Karl Dix wins a Savage Chickens t-shirt for his suggestion:
"For God's sake man! Get your head out of its arse!"
Second place – Andrew Tolson wins a Savage Chickens mug for his suggestion:
"Hollow and disturbing. It's the perfect costume for you."
For those who didn't win, keep an eye out for future contests. This was fun so I'll probably do it again!
[Technorati tags: Cartoons, Chickens, Halloween]