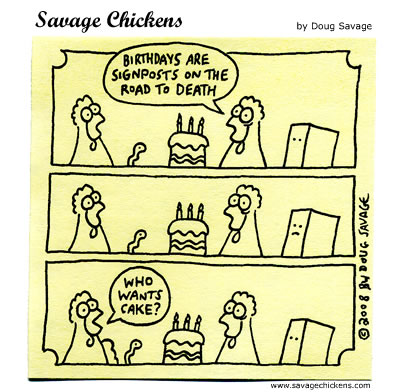 Early birthday greetings to Karina (Fatimajo)! This is my fourth year of drawing birthday cartoons for Karina – you can see previous birthday cartoons by clicking the Birthday tag below. And also happy b-day to Diana (lukewarmnolonger) and Mike (hypnobee) who are also celebrating over the weekend! Here's hoping all of your birthdays are happy ones.
Also, a reminder: today's the last day to enter to WIN a Savage Chickens Coffee Mug!
And a note about RSS feeds: I'm still tinkering with these, but if you're having trouble reading the cartoons in your feedreader, try subscribing to https://www.savagechickens.com/feed.