Currently viewing the tag: "GoComics"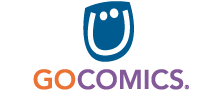 I wrote a guest post over on the GoComics blog today, as part of their "Meet Your Creator" series. Go check it out!
I talk about how a became a cartoonist, my process, and what I've learned from years of chickening. And you can see a picture of me sitting here at my messy desk (see if you can spot: a leprechaun, K-9, and the Millennium Falcon). If you have any follow-up questions, throw them into the comments or feel free to email me!