Currently viewing the tag: "Ketchup"
Happy birthday Karina!!! I promise I'll send Doritos soon! Really!
It's my annual comic for Karina's birthday! And because I knew I was going to be on the road for Karina's birthday this year, I prepared this comic ahead of time. It's a true story, based on our conversation last year, and it's my first Karina Birthday Comic to feature Karina herself as a chicken!
This is my 17th birthday comic for Karina. Here are all of Karina's comics from previous birthdays: Happy Birthday – Birthday – Birthday Party – Party Pooper – Birthday Essentials – Getting Wiser – King Kong – Dog Days – Looking Great – Finally – Best Cake Ever – The Perfect Gift – Truly – Cause for Celebration – Better With Age – Virtual Birthday Greetings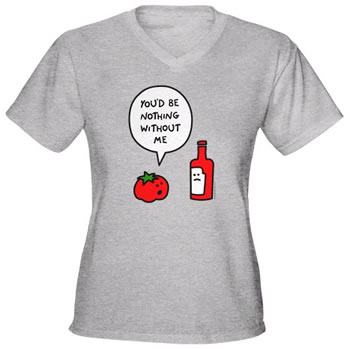 Hey everybody! By popular demand, I've created a shirt based on this cartoon. You can get 'em here!