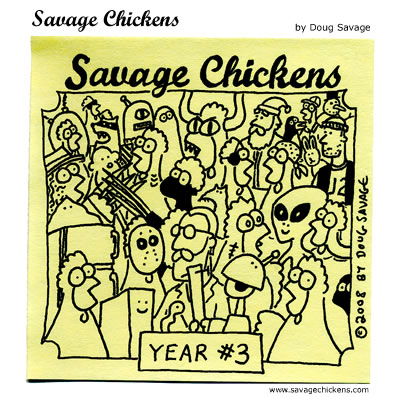 Savage Chickens debuted on the web three years ago today! A big thanks to all of you readers for making it all worthwhile! Today's sticky note shows all of the characters who appeared in more than one cartoon during the past year.
Most-Visited Cartoons
Here's your collective top ten. These are the most-visited cartoons from the past year:
Doug's Top Ten
Nice ones. But I've picked a different batch for my Top Ten. Here they are! (in alphabetical order)
Win a coffee mug!
What's your favourite cartoon from the past year of chickens? Let me know, in the comments below or by email, and you could win your favourite cartoon on a coffee mug. I'm going to randomly draw a few winners at the end of the day!(Update: the winners are listed above!)
——
Update! Winners announced! The winners of the coffee mugs (and their favourite cartoons) are…
– Jess S. – Chaos in Hell
– Helen W. – Excellence In Management #3
– catmum – Text Messaging
Previous anniversaries: 2nd – 1st