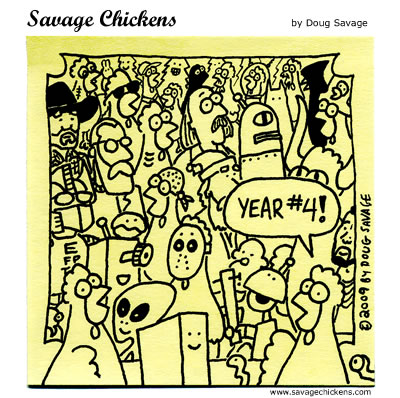 Four years ago today, Savage Chickens debuted on the web! Thanks to all of you for another great year – you make it all worthwhile! Today's cartoon shows all of the characters who appeared in more than one cartoon during the past year.
WIN a Coffee Mug!
As a thank-you, I'm giving away a few coffee mugs this weekend. To be eligible, just add a comment to this post telling me which cartoon was your favourite from the past year. I'll draw 3 winners randomly on Sunday and the winners will get a mug with their favourite cartoon on it! Update: Winners announced!
Your Top Ten
Here are the most-visited cartoons from the past year:
Doug's Top Ten
Here are my picks from the rest of the past year's cartoons:
Thanks again for a great year! It's been a blast!