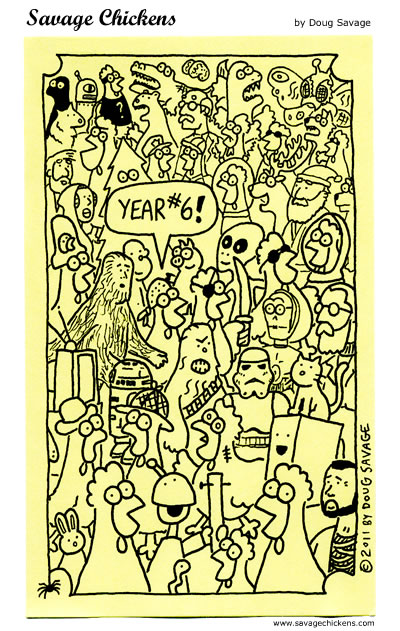 This Sunday, I'm celebrating six years of Savage Chickens! Here's my annual cartoon showing all of the characters who appeared in more than one cartoon in the past year. See how many you can identify!
This has been a really fun year for me. I've spent a lot of time behind the scenes working on Savage Chickens: A Survival Kit for Life in the Coop, which is coming out in a month and features mostly all-new cartoons created especially for the book! Working on the book got me experimenting with new ideas, and I started drawing larger cartoons this year, such as 3″ x 5″, 3″ x 10″, 3″ x 20″, 3″ x 25″, and even 12″ x 12″. I hope you've enjoyed the longer cartoons – I'm having a lot of fun trying new things.
Your Top Ten
These were the most-visited cartoons during the past year:
Doug's Top Ten
Here are my top picks (alphabetically) from the rest of the past year's cartoons:
Anyway thanks for your continued support and for making this past year so much fun. I couldn't do this without you!
Did your favorite make this year's top ten lists? Post your favourite cartoon(s) in the comments and you could win Doug's new book and Savage Chickens artwork! Update: Winners announced!