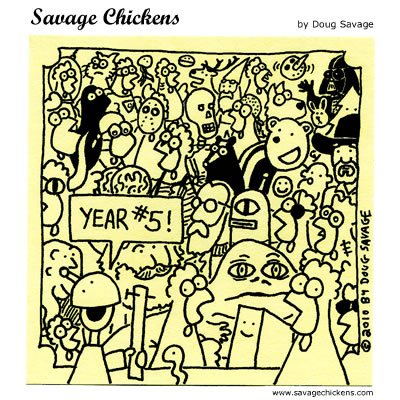 Tomorrow is the fifth anniversary of Savage Chickens' debut on the web! So here's my annual cartoon showing all of the characters who appeared in more than one cartoon during the past year. See if you can identify all of them!
The past five years have been so much fun and I owe you all a huge thanks for your support. And this fifth year was a particularly exciting one for me, thanks in part to the book deal and the music video.
WIN a Coffee Mug!
To celebrate five years of chickens, I'm giving away 5 coffee mugs. To be eligible, just add a comment to this post (or email me) telling me which cartoon was your favourite one from the past year. On Sunday, I'll randomly choose 5 winners, who will get their favourite cartoon on a coffee mug! Update: Winners announced!
Your Top Ten
Here are the most-visited cartoons from the past year:
And the most-visited tags from the past year were: love, games, Star Wars, psychology, and work.
Doug's Top Ten
Here are my top picks (alphabetically) from the rest of the past year's cartoons:
Thanks again for a fantastic 5th year!